Portovenere
within 5 minutes from the Hotel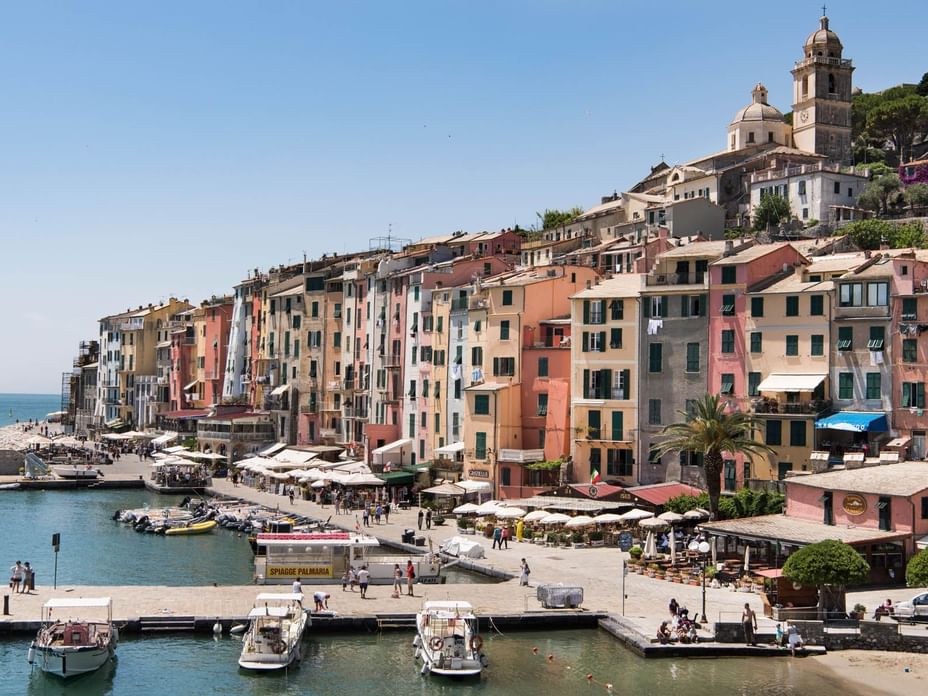 HISTORIC CENTER: Portovenere features an ancient port with tall, narrow and brightly colored buildings that give you the sensation of stepping back in time. The town center offers a range of shops, restaurants and bars.
ST. PETER'S CHURCH: Built in 1198 A.D., this spectacular church sits atop the cliffs that jet out into the sea, creating the most dramatic and recognizable attraction in Portovenere.
BYRON'S GROTTO: This breathtaking inlet is very popular with local sunbathers as its shape creates a protected pool for swimming. It is the perfect example of why this area has become known as the Gulf of the Poets.
DORIA CASTLE: Built in the XII-XIV centuries, the castle originally housed the Doria Family, who had a very important role during the era of the Republic of Genoa. This jewel offers a unique panorama of Portovenere and the Gulf of the Poets.
ST. LORENZO'S CHURCH: Built between 1118 and 1130 A.D., this church is the site of the festival celebrating 'Madonna Bianca,' the patron saint of Portovenere, which is held annually on August 17th.
THE ISLANDS: With an area of almost 2 square kilometers, Palmaria Island is by far the largest of the chain of islands in Gulf of La Spezia. It is a UNESCO World Heritage Site along with Portovenere, Cinque Terre and the smaller islands of Tino and Tinetto. Easily accessible by boat or ferry, Palmaria is an ideal place for nature and sea lovers to pass the day.
Learn more on our blog "Discover Portovenere" .