Meet the Visual Artists
Grand Hotel Portovenere is an art hub for local artists and young creatives hailing from the territories between Liguria and Tuscany. While admiring the original XVII-century features that were maintained throughout our hotel and rooms, you will also notice a series of contemporary visual elements.
As you walk into our hall, you cannot help but notice the unlikely tropical jungle and the amusing seabed installation by the innovative Tuscan artist Stefano Pilato. His works of art are created by assembling recycled materials and objects found on the beach of nearby territories.
Outdoors, we have transformed the underpass that connects pedestrians to Portovenere's historical center into an open-air art gallery. It features paintings and sculptures by artists that come from the Accademia Ligustica di Belle Arti di Genova (Liguria) and the Accademia di Belle Arti di Carrara (Tuscany). Artists involved include the Ligurian painter Davide Tavino, the Tuscan collective of sculptors called Bedrock, and Ligurian artist Sabrina Davì.
In the common spaces of the Grand Hotel, you will find paintings and photographs by various distinguished artists. Examples are Francesco Vaccarone and Carlo Giovannoni, both of whom are versatile painters and sculptors from La Spezia (Gulf of Poets). Grand Hotel Portovenere also has a wide collection of works by renowned Tuscan photographer Claudio Barontini. You will find his beautiful photographs exposed in common areas and in some rooms.
The common thread of all our art installations is the history and the landscape of the Gulf of Poets, seen and interpreted by different artists and with various materials and techniques.
Featured Artists:

Stefano Pilato in Livorno, Tuscany, and grew up in the town's Borgo Cappuccini district, where his art lab is located today. He started drawing as a child and has cultivated a love for design and architecture through his workshop and his many collaborations.
Read More

opens in a new tab

Carlo Giovannoni was a versatile artist from La Spezia, where he was born, lived and worked his entire life as a painter and sculptor.
Born in 1915, Giovannoni was a self-taught painter by the age of 14, when he became apprentice in the Studio of Master Sculptor Angelo Del Santo, another important artist from the Gulf of Poets. The works that Carlo created in the 1930s as a young and promising sculpture student – including an interesting bronze sculpture named Pugilato (1934) – met with acclaim at exhibitions and contests.
Read More

opens in a new tab

Francesco Vaccarone is an Italian painter and sculptor who was born in La Spezia in the Gulf of Poets. His works are displayed in public collections, universities, museums and private collections all over the world. Some of his paintings have travelled around the globe before returning to Liguria, where they are permanently exposed at Grand Hotel Portovenere.
Read More

opens in a new tab
Live Music & Tastings
Palmaria Restaurant and Venus Bar are the setting of unforgettable live music evenings with the unique backdrop of Porto Venere's harbor and Palmaria Island.
Depending on the theme of the night, performers pay homage to classical, Italian and international music, while our chefs and barmen delight your palate with tasting menus and cocktails that are created specifically for the occasion.
Taste the exclusive oysters from the Gulf of Poets; experience the typical 'muscoli' at sunset combined with wines from Cinque Terre; discover the rich flavors from "the land" between Liguria and Tuscany…
Featured Musicians: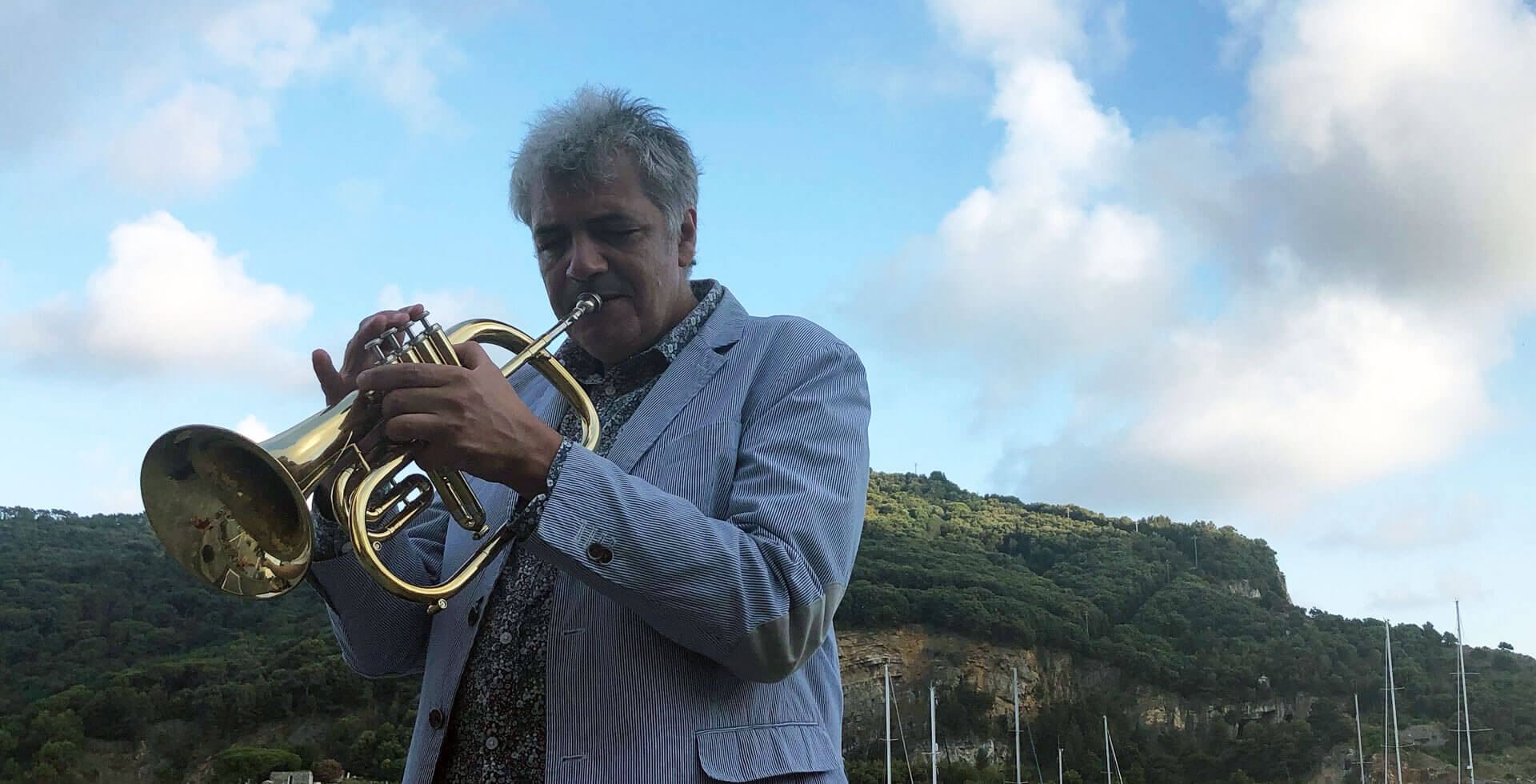 Lorenzo Cimino graduated in trumpet and jazz composition. He has taught in high schools as well as in the University of Pisa, the Bologna Conservatory, and the Boccherini Lucca Institute. He has made numerous recordings on behalf of Rai, and won the audition for First Trumpet in the orchestra of the Fermo Festival. His career features an intense concert activity, from prestigious festivals and theater inaugurations, to working with composers and on the release of CDs. In 2016, on the 100th anniversary of Dadaism, he played and wrote the music of the "WiTz" Performance, the only Italian project awarded by the Dada 100 Foundation in Zurich. Since 2022, he is also the artistic director of the prestigious International Jazz Festival of La Spezia.
The maestro has exclusively curated three themed playlists for the Guests of Grand Hotel Portovenere!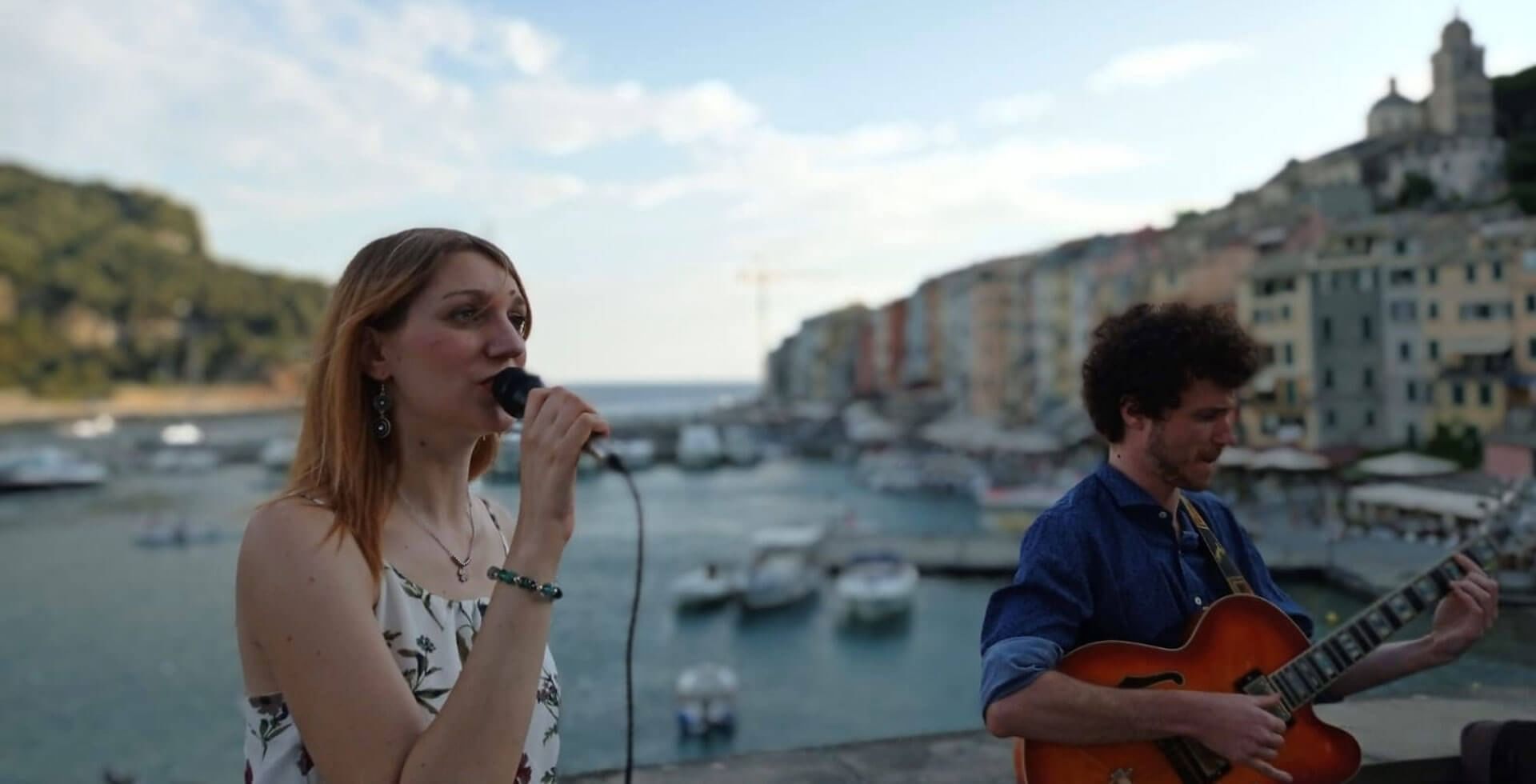 Born in Florence in 1994, Alice Innocenti is linked with the Gulf of Poets because she attended the Conservatory in La Spezia, graduating in Jazz Singing and Jazz Composition. She has performed in several theaters and festivals across Italy, including the Collina Jazz Festival, Lucca Jazz Donna, Novara Jazz and Serravalle Jazz. She also won the "Franco Campioni Award" as the best emerging talent and a scholarship at Boston's "Berklee College of Music".